Once again, I must apologize for the delay in my blog! As I mentioned before, last weekend I had a conference in San Antonio and then I started my new job and worked a full week. Getting back into a regular schedule is a quite a challenge, especially after a long, tiring weekend!
Now that everything is official, I get to share the details!
I am now employed by the
Medical Center of Lewisville
in the Cardiac Rehabilitation department as one of their Exercise Physiologists. For the last 6 years, I have been working in Cardiac Rehab, so I feel very blessed to continue what I love!
As many of you know, the last several months (years, actually) have been a trying process where I have had to fully trust the Lord and give full control to Him. I can honestly tell you that I feel at peace with this position and know that I am right where He wants me. He has truly answered my prayers, and I can't even express in words how THANKFUL I am!!
Going back to my key verse:
Be joyful always; pray continually;
give thanks in all circumstances,
for this is God's will for you in Christ Jesus.
1 Thessalonians 5:16-18
I can't express how thankful I am for the opportunity to work at this hospital. The whole philosophy of this hospital system is different from anywhere else I have been employed. They do not just consider themselves a "healthcare" organization (even though that is obviously the service we provide), but instead a "customer service" organization, just like any restaurant or retail facility. This is the same way we are to treat our patients, not as a number or a disease, but as a human being...listening to them, caring for them, and making there experience the best possible (which is challenging, considering most people don't particularly enjoy coming to the hospital). They continued by talking about how they clean house several years back and got rid of all of the "mean people." They gave examples of how they can teach skills, but they will not put up with intimidation, hazing, or just negative attitudes. Did I actually hear that you fired someone because they were rude to patients?
Am I dreaming?
I was literally tearing up during orientation!!
Now, I am not unrealistic, I know that no organization is perfect. I know I am going to run into difficult coworkers and patients, but this organization appears to really be focused on making their hospital a family and community environment ... which is it's mission! I have already experienced some of this in my first week.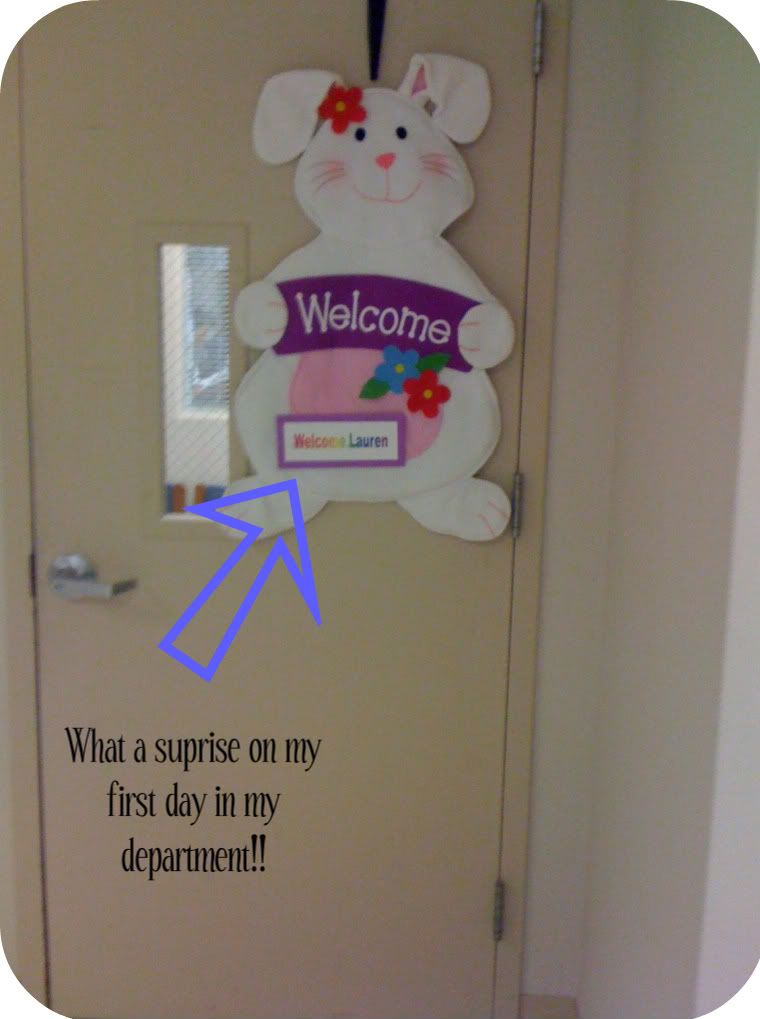 I know this may seem silly to you, but I am literally overjoyed by how friendly the people have been during orientation and in my department, as I have been learning my way around.
A question that has been on my heart this week:
Would I appreciate this hospital, this job, this department, this welcome sign as much if I had not gone through this time of growth with the Lord?
This concerns me because I honestly I'm not sure I would.
We may never know why the Lord challenges us in certain ways or why we must endure hardships, but I believe it is important to always be looking and praying for what the Lord is teaching us through our circumstances. One simple thing I can take away from this is to look around me and be thankful for what the Lord has given me. Perhaps I have taken too many things for granted.
What a better time to remember to thank the Lord than on Easter weekend, when Christ provided the greatest sacrifice of all times: giving up his son, Jesus, to die on the cross to save us from our sins!
Make sure you thank Him this weekend for this ultimate sacrifice!